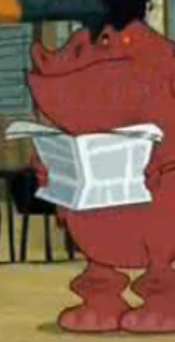 Allopotamus is a mutant Allosaurus that had the hind legs and nose of a hippo. He has appeared throughout the series as a background character. He also most likely has the same creation origins as the Radioactive Dinosaur-Spider, since both have DNA from theropods.
In "The Mutants who Cried Monster", he was seen reading the newspaper.
He was also seen in "Sugar Low" during the chase scene between Peri and Mister Smarty Smarts.
He is mostly seen up close when the whole town starts screaming
Ad blocker interference detected!
Wikia is a free-to-use site that makes money from advertising. We have a modified experience for viewers using ad blockers

Wikia is not accessible if you've made further modifications. Remove the custom ad blocker rule(s) and the page will load as expected.