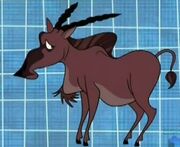 Antelopes are non-mutants that are dangerous. As mentioned in the Knowing is Growing short Antelope, they have long horns that can really hurt you. Although the sane minded wouldn't bother shoving them up their nose, it had apparently became a trend on Keep Away Island. Other then this dangerous trend, nothing much regarding the antelope has been mentioned. Occasionally, however, you can hear the bellowing of an antelope in the background.
Ad blocker interference detected!
Wikia is a free-to-use site that makes money from advertising. We have a modified experience for viewers using ad blockers

Wikia is not accessible if you've made further modifications. Remove the custom ad blocker rule(s) and the page will load as expected.