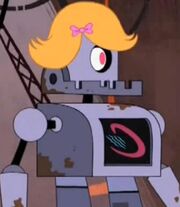 Claw-o-patra was the name of a robot created by Mister Smarty Smarts that has one eye, huge claw hands, and wears a blonde wig. She was first seen whilst she was created at the time peri wanted to ask the clever mutant to read the Doctor's book about peri's purpose. (Stuck Together)
Later on, when Octocat left Smarty Smarts, he reprogrammed the robot to be his new minion. This proved to be a mistake, as the robot disobeys, and later on even tortures him for no reason at all.
When Smarty Smarts whent to apoligize to Octocat, she confronts him, ready to beat him up once again. Before she could do this, she is attacked by Octocat and the two battle. In the end, Octocat destroys her with the laser she attached to Peri's head.
Ad blocker interference detected!
Wikia is a free-to-use site that makes money from advertising. We have a modified experience for viewers using ad blockers

Wikia is not accessible if you've made further modifications. Remove the custom ad blocker rule(s) and the page will load as expected.