Fairy Odd Princesses was the seventh episode of the TV series.
After Peri and Entrèe accidentally shoot themselves into the sky with one of Fuzzy's transportations, Entrèe uses his chicken wings to stop him and Peri falling to their death. However, he crashes through a building and loses control. After they crash through a make-up store, a clothesline and a wig shop (completely changing their appearance) they land in the tree house of Princess Pony, who believes they are magical fairies. After learning she'll give them everything they ask for in return for fairy tales and fairy songs, Entrèe decides to use Princess to get everything he wants.
Description
Edit
The title is a pun on the tv series "Fairly Odd Parents"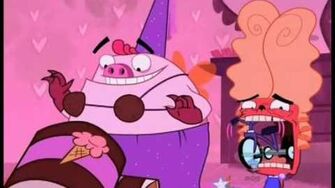 Ad blocker interference detected!
Wikia is a free-to-use site that makes money from advertising. We have a modified experience for viewers using ad blockers

Wikia is not accessible if you've made further modifications. Remove the custom ad blocker rule(s) and the page will load as expected.