Melvin

animals spliced:

squirrel, bird

Best friends

None

First appearance

Portrayer

Scott McCord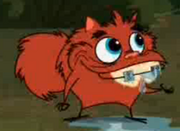 Melvin was a squirrel/bird mutant who wears braces. He was originally thought to be a monster by Peri and Entrèe when a bottle stuck on their heads and made Melvin's little footprints look huge.
They made him a monster suit so he could terrorise the town but he failed and the mutants tried to attack him. He is actually very peaceful. (The Mutants Who Cried Monster)
Ad blocker interference detected!
Wikia is a free-to-use site that makes money from advertising. We have a modified experience for viewers using ad blockers

Wikia is not accessible if you've made further modifications. Remove the custom ad blocker rule(s) and the page will load as expected.