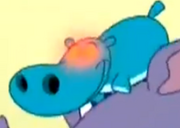 Mr.Wrinkles is Joe's childhood toy(or friend).He always says sentences about loving Joe. Entree threw him in the volcano(Mr.Wrinkles in Time) because Mr.Wrinkles was going to be the new mayor of the town and torture Joe instead of saying "I love you Joe." (Mr. Wrinkles in Time)
He is voiced by Scott McCord.
Ad blocker interference detected!
Wikia is a free-to-use site that makes money from advertising. We have a modified experience for viewers using ad blockers

Wikia is not accessible if you've made further modifications. Remove the custom ad blocker rule(s) and the page will load as expected.