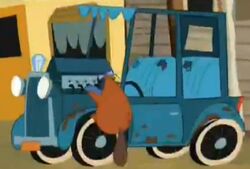 Old Susie is the name of Patricia's truck. It is sometimes seen being driven by other mutants. In Bowled Over Peri throws the ball into the motor.
Old Susie changes styles in some episodes in the series. One of the designs is a dark blue truck with a little bit of rust on it. The other design is a bright blue truck with no rust.
It has some details on it. Christmas tree necklace and rust
Ad blocker interference detected!
Wikia is a free-to-use site that makes money from advertising. We have a modified experience for viewers using ad blockers

Wikia is not accessible if you've made further modifications. Remove the custom ad blocker rule(s) and the page will load as expected.